The Navy Hospital Ship Politicians Want in LA Is Stuck in Maintenance in Portland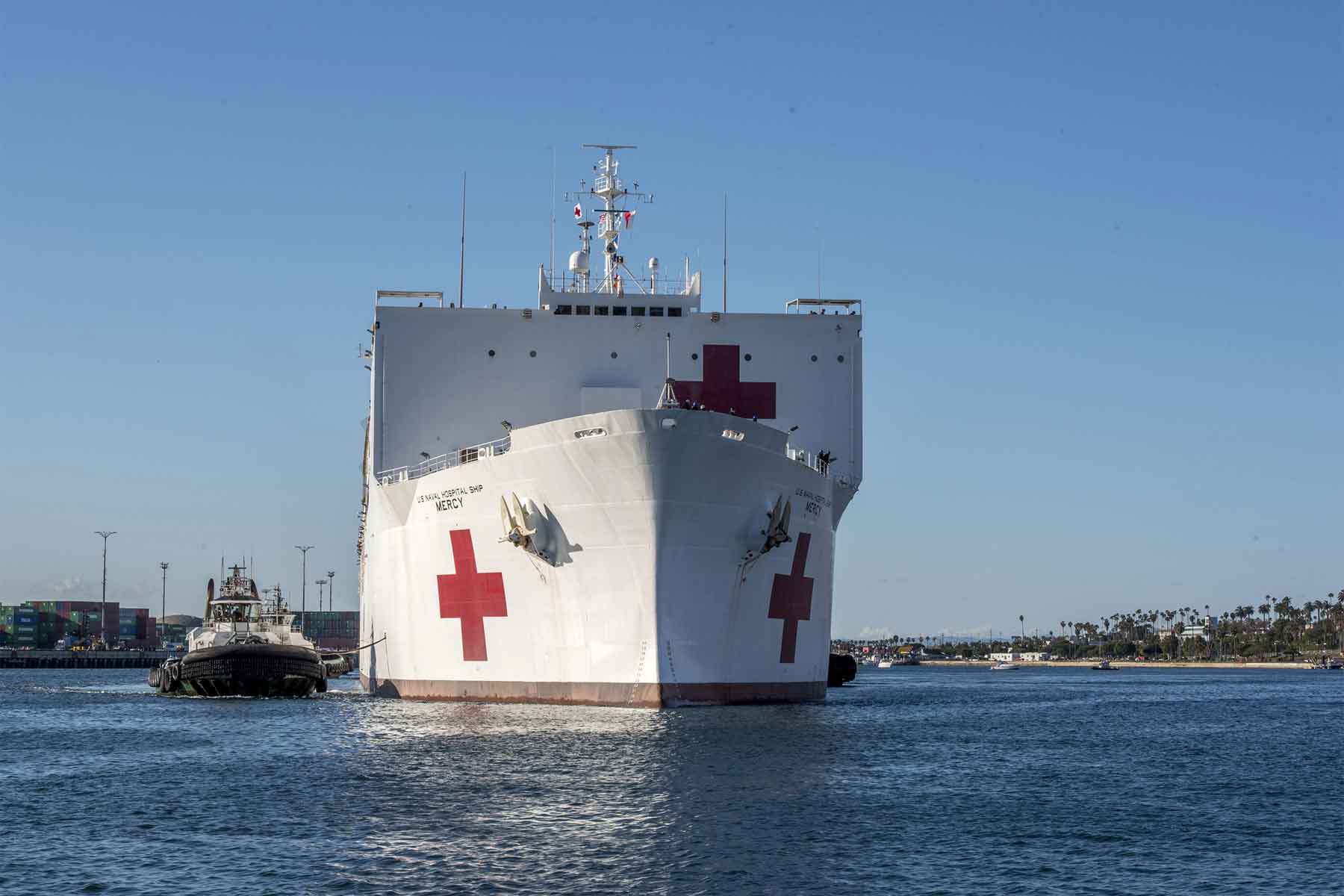 Hospitals in Los Angeles are so overloaded with coronavirus patients that ambulance crews have been instructed not to transport people to medical facilities if they're unlikely to survive. But a Navy ship that could offer a reprieve is stuck in an Oregon shipyard.
Los Angeles Board of Supervisors member Janice Hahn said last week that she had asked California's governor to request the hospital ship Mercy return to Los Angeles as the city deals with a troubling surge of COVID-19 cases.
"Our health care workers are exhausted and our hospitals are overwhelmed," Hahn said Dec. 30. "They need backup. This surge is the crisis we dreaded all along. Our health care workers need as much support as we can get them, and we need the USNS Mercy back at our port."
Read Next: National Guard Will Wear Black ID Vests to Stand Out from Police During DC Protests
But the Mercy is undergoing a major maintenance overhaul at Portland's Vigor Industrial shipyard, where it has been since July, said Tom Van Leunen, a Military Sealift Command spokesman.
"The current maintenance period is scheduled to complete in the spring of 2021, followed by a month of sea trials and other post-maintenance testing and training, at which time the ship will return to its normal readiness level," Van Leunen said.
At that point, he said, the ship will be ready to deploy within five days of tasking. USNI News first reported on the Mercy's maintenance status Tuesday.
The Navy's two hospital ships were dispatched to the East and West Coasts last spring after President Donald Trump declared a national emergency toward the start of the global pandemic. The Mercy, which is based out of Naval Station San Diego, arrived at the Port of Los Angeles on March 27. The Virginia-based hospital ship Comfort arrived in New York three days later.
Overall weekly hospitalization rates reached their highest point Dec. 5, according to a Jan. 4 report from the Centers for Disease Control and Prevention, and remain elevated. Hard-hit areas, including Los Angeles, are running out of beds in intensive-care units.
The Defense Department referred questions about whether any states have requested a hospital ship to the Federal Emergency Management Agency. Janet Montesi, FEMA's press secretary, told Military.com that no states have formally asked for medical ships to be dispatched to their ports.
"FEMA and our federal partners continue to work closely with states, territories and tribes to fulfill their requests for support in the fight against COVID-19," she said.
The Comfort is currently at Naval Station Norfolk, Van Leunen said.
The hospital ships didn't end up treating many patients when they were deployed last year. The Comfort left New York in late April after treating about 180 patients. The Mercy left Los Angeles a couple of weeks later after treating a few dozen non-COVID-19 patients there, KNBC reported.
The overhaul work the Mercy is undergoing in Portland is significant, Van Leunen said, to extend the hospital ship's life to 2036. That includes work on the flight deck to support the V-22 Osprey tiltrotor aircraft, lifeboat and boat davit upgrades, and substantial propulsion and structural work, he said.
— Gina Harkins can be reached at [email protected] Follow her on Twitter @ginaaharkins.
Related: Underused Comfort to Leave NYC, Prepare for Another Pandemic Mission if Needed
Show Full Article
© Copyright 2021 Military.com. All rights reserved. This material may not be published, broadcast, rewritten or redistributed.